Thunderbird to Outlook Converter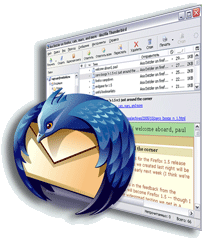 Nowadays, the internet has connected the world and has turned it into a global village especially, the electronic mail system has now maintained regular interaction amongst people living in different parts of the world and that's why it is considered to be the best source connecting people. A fact that many people find it very easy to share their conversations, pictures, sender and recipient contacts, messages etc via mail but what if you have to share your data beyond the limits of the web or you might need to store your data at any secure place? Most of the people get stuck in such situations and have no idea of what to do. Well, here is a solution for those troubled people i.e. convert Thunderbird to Outlook PST format.
PST is basically an Outlook format that is used to accommodate all the converted files from EML. Conversion is the actual issue that needs to be handled with technique.
Thunderbird to Outlook Converter ( download ) is the best source that will sort out all your problems and will prove to be of great significance for you. Nowadays Thunderbird to Outlook Converter has gained a lot of boast in the business and social circles because of it stunning features.
Simplest Way to import Thunderbird to Outlook
Transferring of  Thunderbird messages using Thunderbird to Outlook Converter. It is modern and simplest method works in one or two clicks. You don't need to have special knowledges in data conversion and processing, Thunderbird conversion software will guide you vis conversion steps.
So how to proceed?
Download ThunderConv software and install it. If you have the license key already, you may register it also.
Right after startup it is ready to work, point it to the Thunderbird email storage folder and press "Find Mailboxes" button.
Converter will scan the hard drive and detect mailbox files.
Now you may change the mode. By default it is importing Thunderbird emails to Outlook. You may use the menu to cahnge mode to import emails to PST file.
Now almost done. Click "Import" or "Save" button, depending on mode selected and Thunderbird emails will be imported to Outlook in accordance with the folders structure.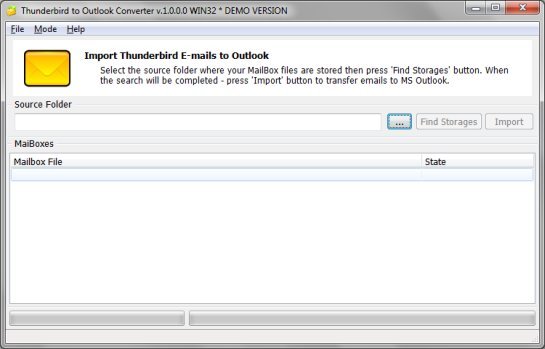 The main features are as follows
You can easily import the email attachments, email files, pictures, messages and most important of all; your recipient contacts to Microsoft Outlook via ThunderBird to Outlook converter.
Besides this,  PST is a safe storage system which is much better than the other file systems as it can be used without an Internet and also is usually password protected thus refraining other "unwanted" people from hacking, cracking or bypassing your information and contacts. Thunderbird to Outlook converter allows you to import necessary items from other major email clients i.e. The Bat, Thunderbird, Apple Mail, Yahoo, Gmail and many more.
Thunderbird to Outlook converter makes it sure that all the imported or moved files from the "source" to the "sink" are properly scanned and checked for security or spam issues. (* – additional antivirus modules are required)
The best thing about this Thunderbird to Outlook Converter that has struck the hearts of many people is that you can conserve the original file format and orientation of all the folder and sub folders of the source EML files.
Import filter options is another awesome feature enabling you to exclude the unwanted files and folders and also check out the size and font of the selected files in order to import the desired type of material.
Apart from all this stuff, this converter is multi functional software that can convert files and folders from almost all sorts of email forums and clients.
With so many charming features, who would like to use the primitive conversion softwares with limited features? Try this, it won't let you down.
How the Thunderbird to Outlook Conversion is performed also:
Alternative way to Convert Thunderbird emails to Outlook:
There is two steps needed to be performed to convert your Thunderbird mail stores to Outlook messages. First you have to extract emails from Thunderbird mail stores using any available MBOX extractor. You may read about them at wikipedia. Or use the free one which is already included to the Outlook Converter program group.
Extract emails from Thunderbird
Open the Outlook Converter program group and run the MBOX Extractor software
Press ADD button and select Thunderbird mailbox files to add them to the conversion (extraction) list
Press Extract button and select the folder where free MBOX extractor should save extracted emails
Wait for the end of Thunderbird to EML conversion (emails extraction)
Now you have to run the Thunderbird to Outlook software, select the source directory where emails were extracted and import them to Outlook:
Import Thunderbird emails to Outlook
First you have to download and install the Import Converter.
Second you have to select or specify the source folder where Thunderbird email files are stored
The program will scan folders and find all emails to be imported, you now have to select or deselect unwanted items
Now you may choose special options or skip this step, press Next button
Select the target for Thunderbird emails to be imported
Run the importing procedure
The program will do all other job and display you the message that conversion has been done. Now you may open your Outlook and inspect the result o conversion.
Please do not hesitate to contact us if you need help with Thunderbird to Outlook converter software. Our technical specialists are always at your order and ready to help you.
strong